TOZO earbuds are one of the best-selling products on Amazon. they are well-known to deliver quality headphones with advanced features. Among Complete TOZO T6 vs T10 vs T12 price increases with ascending order but they are quite affordable for regular use. 
Between TOZO T6 vs T10 vs T12, all have IPX8 rating and are known to survive 3 ft. underwater for 30 minutes. Most earphones don't have this feature at this price range. While they differ in battery life, driver size, and controls, they excel in audio quality. 
All three earbuds support Bluetooth 5.0 and pairing them takes a couple of minutes. They are known not to face any connection interruption if you are within the range. The T6 and T12 seem to outperform the T10 in several factors like driver size, audio quality, button controls, and battery life.
Our pick: TOZO T6 
The reason to choose TOZO T6 is that it has the overall best performance in all sectors. The audio quality is very accurate. It adds additional boom and produces clear mids and treble. It has the longest battery life among TOZO T6 vs T10 vs T12. 
Best for Among TOZO T6 vs T10 vs T12
Best for sports: TOZO T12
Compared to other earphones, T12 fits perfectly and snugly into the ear. You can wear them in the gym or during sports like running without worrying that they will fall off. They touch controls and IPX8 rating which means it is sweat and water-resistant. Along with these, the long battery life makes it the best earbuds for sports.
Best for traveling: TOZO T6
TOZO T6 is the best earbuds for traveling. It comes with different sizes of ear tips so you can choose one that fits your ear perfectly. This assures that you can wear them for long hours without feeling any pain.
They will also block outside noise and don't have any noticeable sound leakage so the person beside you will not be disturbed. The sound quality is very good with deep bass. The wireless case is very light that you can carry in your pocket and the battery life is also long. 
Best for music:
The TOZO T12 is best for music because of its sound production. It has the largest driver of 10mm. it has decent accuracy in the bass and treble section. They can get very loud and produces a clean and clear sound. You can enjoy music without the disturbance of external noise. 
Best for office use:
You can use the T10 earbuds for the office. It has decent battery life, blocks surrounding noise and you can charge the earbuds with your case wirelessly several times. So it is one of the best earbuds for office use.
Comparison table: TOZO T6 vs T10 vs T12
Colors
Black, blue, green, white, champagne, rose gold
Black, blue, gray, white, khaki
Black, blue, red, champagne, rose gold
Colors
Black, blue, green, white, champagne, rose gold
Colors
Black, blue, gray, white, khaki
Colors
Black, blue, red, champagne, rose gold
Product review: DESIGN
The TOZO earbuds are stylish and glossy. The design of earbuds talks about color, size, and sturdiness. 
Size and Weight
Comparing TOZO T6 vs T10 vs T12, we see that all are very light. They almost feel like holding a feature. So even if you use them for long hours, you will not feel the weight. The T12 is slightly heavier but it isn't noticeable. 
In terms of size, between TOZO T6 vs T10 vs T12, the T10 is the smallest, then comes T6 which is almost similar to T10 and the T12 is slightly bigger than the other two. All these have a very small and compact size which makes them easy on-ear.
Style
T6: This earbud has a circular back and a pointed earpiece which you will insert into the ear. The backside is made of plastic and is shiny. One major difference between T6 vs T10 vs 12 is that the T6 has touch controls which makes them even more attractive. 
The sturdy T6 case is easy to hold or put in a pocket. Comparing TOZO T6 vs T12, the T6 charging case is smaller and indicates the battery level. It comes with magnets that lock the buds until you remove them. 
This means the earbuds will not accidentally fall. It is taller in size compared to the other two. For convenience, it has an LED light that shows battery life. You can choose one from black, blue, green, white, champagne, rose gold.
T10: The TOZO T10 Truly Wireless earbuds come with 'L' and 'R' labeling on them. It is slightly bigger than T6. Between T6 vs T10, the T6 is the newer version of T10. It is made of matte plastic and a shiny ring covers it. 
Unlike the T6 it doesn't have touch control rather has a button that you need to press. The case has a strong build with 4 LEDs. It holds the earbuds magnetically. The available colors are: black, blue, grey, white, khaki.
T12: The T12 is slighter larger than the other two. It is made of plastic and has a shiny outer surface. You can choose from five different colors: black, blue, red, champagne and rose gold. Similar to T6 it has a touch surface that makes it look smarter. The case is built in such a way that it protects the earbuds and a digital display shows the remaining charge of the earbud and case.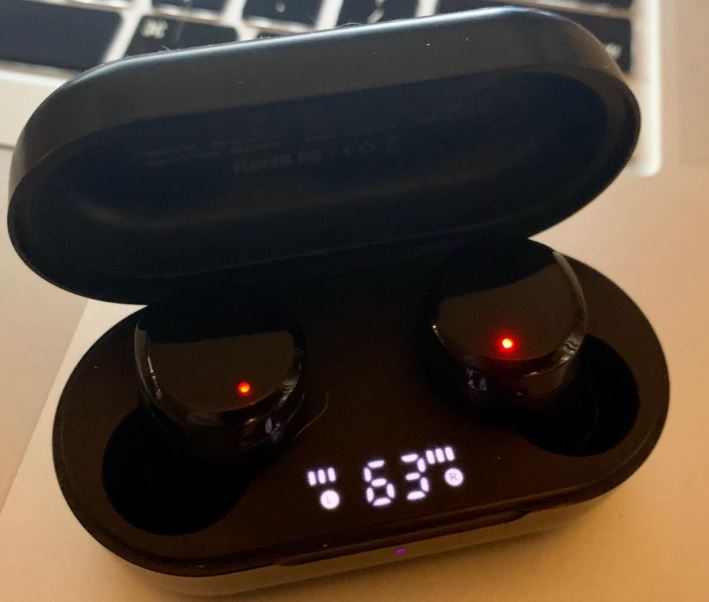 Ease of use
The ease of use of earbuds is defined by comfortability and portability. All these TOZO earbuds are highly portable because they are wireless, have good and long battery life, supports wireless charging, and small in size.
In terms of being comfortable, the TOZO earbuds are designed ergonomically. It is designed by the shape of the ear and they all have gel-flexible silicon wrapped on the earbud. The TOZO T6 comes with 4 sizes of rubber tips which you can wear to find out the best one for you. 
The T10 comes with four different ear tips but its stiffness makes it less comfortable compared to others. The T12 is said to be fit in the ear like no others. It comes in six different sizes of ear tips. All these earbuds will snugly fit into any ear with the given sizes of ear tips. The silicone earpad and the shape of the earbud will remain tightly in your ear so there is no fear of falling.
Build quality
The TOZO T6 and its case seem to have a strong built compared to T10. They are all made of plastic and have similar build quality. the quality is very good and can be considered more than average. The TOZO T12 comes with high-grade plastic.
Another major feature of TOZO earbuds is that the TOZO T6, T10, and T12 earbuds along with their cases are waterproof. They have an IPX8 rating which means the earbuds can protect themselves from 'continuous immersion of water'.
The Nano-coating withstands sweat, water, rain and you might also go for a swim with them but it is recommended not to do so.
Winner:  T12 due to its design and comfortability.
PERFORMANCE
:
To determine the performance of these earbuds we look into several criteria.
Type
All these TOZO earbuds have closed-back and ear tips that you need to insert into your ears. If you think you don't like to insert anything inside your ear, then you can read our article on the Best classic earbuds where we talk about earbuds that will remain on the outer surface of the ear. 
Closed-back earphones are great for loud environments. Although these TOZO products are often called earbuds, they are basically In-ear monitors that we wear into our ears. 
Transducers
Drivers are an important part of earphones because they will do the main part of sound production. The T6 has 6mm drivers in them that can produce a sound similar to premium earphones. The T10 has 8m drivers that make the audio vibrant.
Comparing TOZO T6 vs T10 vs T12, the T12 has the largest size of drivers, which is 10mm. it deals with mids and highs accurately and the drive area is 2.22 times bigger when compared to the normal drive area.
Sound production
The average standard deviation of TOZO T6 for frequency response consistency is 0.03 that lies within the standard value of <0.5. whenever you reposition your earbuds, the frequency consistency remains and the audio remains the same. 
Although the T10 and T12 have a slightly higher value, they show almost similar performance but among them, the T6 shows outstanding results. All three TOZO earbuds have very good low-frequency extension which is 10Hz. Among TOZO T6 vs T10 vs T12, the T6 has the lowest standard error at bass which is within the limit of <4dB.
The T6 shows excellent bass accuracy, the T12 is average and the T10 has very poor performance. In T6, you can feel the bass but it isn't too much or boomy. The bass in T10 is very boomy or thumpy, while many users will not like it, people who are fans of EDM or hip-hop will be pleased. The T12 shows mediocre performance where there might be slight boominess.
The T12 shows excellent performance in mids, then comes the T6 and the last is the T10. The mids are well-balanced and very accurate in T12. The mids in T6 show a neutral tone but might be recessed or left behind than the bass and treble. The T10 mids performance isn't poor but it lacks behind the rest. The mids are also well-balanced but will be recessed. 
The treble section shows average performance in these earbuds. Instruments like cymbals might sound a bit dull so if you are a classical or jazz lover, you may not like the sound. You may also hear some harshness in it. The imaging of these earbuds is excellent where the left and right earbud synchronize with each other in terms of phase, amplitude, and frequency.
Soundstage
In terms of passive soundstage, all show very poor performance. This doesn't mean the earbud is bad, it's simply because they have closed-back earphones. The sound doesn't sound natural which is normal. The weighted harmonic distortion of these headphones is good. You can turn up the volume high and won't notice any distortion.
Isolation from Surrounding
The overall attenuation and leakage of TOZO T6, T10, and T12 lie within the range which is <-20dB and <35dB respectively. Between TOZO T6 vs T10 vs T12, the T6 and T10 have slightly better noise isolation than the T12. These earbuds don't come with active noise cancellation (ANC) but they eliminate outer noises passively. 
Since the earbuds go into the ear and the closed-back design helps to prevent outside noise. The noises in the mid and treble section like surrounding chitchat or AC noises are effectively removed. If you want your earphone to come with an additional ANC feature, you can look at TOZO NC9 earphones.
These earphones show almost similar performance in noise leakage. They don't leak any audio from the headphones. So you can use them in quiet places like the library or listen to loud music on a bus or train without bothering the person next to you. 
Winner: T6
CONTROL OPTIONS
T6: comparing TOZO T6 vs T10 vs T12, the T6 comes with touch controls that respond instantly to your commands. If you touch it once, it will play/pause the audio so that you can listen to your surrounding without taking them out. When you press for the control, it will tell you in the ear which command you chose.
If you press it twice on either of the earbuds, it will move from one track to another either back through the list or forward. If you press and hold, you can turn the volume up/down. Tapping on the earbuds thrice will allow you to use the voice assistant on your phone. 
T10: these earbuds come with buttons that you need to press. You need to press it once if you want to play or pause the audio file. Press and hold if you want to redial. Other functions include, answer a call/disconnect the call, or reject. The buttons are hard to press and compared to touch buttons they aren't quite attractive.
T12: similar to T6, this earbud comes with touch controls that you can touch once if you want to play or pause audio. if you tap the right bud two times, it will go to the next track and if you do so for the left earbud it will go to the previous track. Tapping it thrice will allow a voice assistant to come. 
Winner: T12
CONNECTIVITY: 
All these TOZO earbuds support Bluetooth version 5.0 and you can't connect them otherwise. The connectivity is strong with minimum interference. If you take the T6 out of the case, they will be active. But if you turn on Bluetooth on your device, you can easily pair it with earbuds. If you want to disconnect, you can simply place them on the case. 
The T6 has low latency in iOS compared to Android or PC. Latency might cause that sound and video to be out of sync. With T10 you can use these earbuds independently. For instance, if you want to only take the right earbud, take it out and pair it will Bluetooth, and look for a name with '-R' in it which indicates 'right'. 
The TOZO T10 and T12 connect in the same way as T6 and for T10, the latency is lower with iOS than others. The T12 has lower latency in iOS and Android. None of the TOZO earbuds supports multi-device or NFC. These earbuds support HSP, HFP, A2DP, AVRCP.
Winner: They all shows almost similar performance.
BATTERY:
Charge 
Wireless Charging Case & USB
Wireless Charging Case & USB
Wireless Charging Case & USB
Charge 
Wireless Charging Case & USB
Charge 
Wireless Charging Case & USB
Charge 
Wireless Charging Case & USB
Charge
All the cases can be charged with a USB cable. You can also charge wirelessly with a Qi-enabled charger which you need to buy separately. The T6 earbuds need 20 to 25minutes to charge and the case can give charge to earbuds up to 4 times. After that, the case needs charging.
T10 also takes 20 to 25 minutes and the case can give charge 4 times. The case needs around 45 minutes to be fully charged. For T12 it needs around 35 minutes for the earbuds to be fully charged. The case is able to charge them up to three times and after that, you need to charge the case. 
Battery life
Comparing TOZO T6 vs T10 vs T12 battery life, the T6 has the highest battery life in terms of continuous battery life of 5.3 to 6 hours and total battery life of 26.5 hours. The t12 is the second highest with 5- 5.3 hours of battery life and 24 hours of total battery life. T10 battery life falls behind the other two. 
Winner: T6
Best alternatives:
Best overall: Sennheiser Momentum True Wireless 2 
Sennheiser Momentum True Wireless 2 are in-ear monitors that come with 7mm dynamic drivers. It has a metal and matte finish on the back. The case is of high quality where you can place the earbuds and charge them. It supports Bluetooth 5.1 and has ANC.
Similar to T6, it has touch control and supports voice assistants. It has a Sennheiser app that you can use for equalization. The audio quality has decent high and mids but the bass is a little too much. 
It has around 4 hours of battery life. It can cancel surrounding noise along with sounds like a train engine. These earbuds have a strong build quality and are highly portable.
Best long-life earbud: Samsung Galaxy Buds+ Plus, True Wireless Earbuds
The Samsung Galaxy Buds+ are made of plastic and are very light to wear. It has a dual-driver system where each earbud that its dedicated drivers. Tuned by AKG, these buds produce high-quality audio with minimum external noise.
This earbud has 11 hours of battery life. It can minimize surrounding noise but in case you need to hear something like a train announcement or car horns, you can switch to Ambient mode. It has one internal and two external microphones to pick up your voice.
It has Spotify integration which you can access with Galaxy Wearable apps. The audio is well-balanced, rich, and has a natural tone.
Best noise-canceling earbud: Sony WF-1000XM3
The Sony WF-1000XM3s supports Bluetooth 5.0 and touch controls. It has 6 hours of battery life and it has a fast-charge option. They are very comfortable to wear with different sizes of ear tips to choose from.
It has a dual-microphone array and ANC to minimize outside noise and the earbuds also have built-in Google Assistant and Amazon Alexa. You can use their app to adjust equalization, change control or etc.
Although these are not sweat-resistant, the build quality is strong. The audio quality is also very good. Different frequencies of the audio are well-represented. The 24bit signal processing enhances the sound quality.
Best high-end earbud: Bose QuietComfort Noise Cancelling Earbud 
The Bose QuietComfort earbuds along with the case are a bit large compared to other earbuds. They are easy-to-wear and will sit tightly on your ear. It has an IPX4 rating so sweat or a sudden splash of water will not be a problem. The case has five LED that shows battery life.
The Bose earbuds have around 6 hours of battery life and they will get two charges from the case. What makes Bose unique, is the noise-canceling feature. You can choose from 1-10 modes and with 10, all the surrounding noise will completely vanish.
If you go to transparency or ambient mode, you will feel that you aren't wearing anything as it lets the outside noise enter naturally. If you remove one earbud, the other one will go to ambient mode. The audio is powerful and detailed.
Parting Words
TOZO manufactures earbuds and earbuds parts. Between TOZO T6 vs T10 vs T12, we prefer the T6. The audio quality of T6 is very impressive, although the bass might be overemphasized. It has the longest battery life among these three. It can block outside noise a little better than the other two.
All these features make T6 the best earbud for overall use. After T6, we prefer the T12 and both these earbuds have touch controls which makes them easier to control. The T12 has a better sound profile than the T10. The T12 earbuds are slightly large in size but are not heavy-weight. 
All these earbuds are easy-to-carry and can be used for long hours. They can be used in different weather conditions and for rough use because they have an IPX8 rating. Being closed back, they can easily block out the external noise which is crucial if you want to enjoy your music solely or concentrate on a podcast. 
FAQs of TOZO T6 vs T10 vs T12
Before closure, you might have some confusion? don't worry, we are still here to help you. We bought you some of the solutions for most asked questions from all over the internet.
How to Connect TOZO T6 with Bluetooth?
Answer: follow these steps to connect TOZO with Bluetooth
Take out earbuds and they will turn blue

It will take 5s for the earbuds to connect with each other.

Turn on Bluetooth on your device

Search for T6 in the list and press pair.

You will hear 'connected' and see 'connected' on your phone display

If you use it later, the mobile should automatically reconnect with the earbuds.

The earbuds will remain in pairing mode for 3 minutes

 It will wait for 5 minutes, then will automatically turn off.
What Precautions Should You Take While Using TOZO Earbuds?
Answer: to protect earbuds and battery you can take these precautions: 
Try not to leave them in vehicles often

Avoid leaving the earbuds in damp, dusty, places with excessive smoke or steam, or sunlight.

Make sure to use moderate volume to protect your ears

Avoid listening to earbuds while crossing roads, in railway intersections

If you want to clean the product, use soft and dry cloth. 

Refrain from immersing them into water.